The 2017 Autonomous Snowplow Competition officially started with the receipt of team applications,
which were due on 16 September 2016, and officially ended after the final dynamic competition on

Sunday, 29 January 2017.

Student presentations were very good this year, and across the board teams did well - as evident by the similar scores
listed below. The dynamic events on the weekend of Saturday and Sunday, 28-29 January 2017, were accomplished well
by most teams. Close scores made it an exciting finish for 1st and 2nd place, as well as from 4th to 7th place!

We want to congratulate all the competitors on a job well done!

Please refer to the competition Rulebook and venue information for competition and event details.

2017 COMPETITORS

Vehicle design concepts - Read about each team's approach to their design.

2017 FINAL COMPETITION RESULTS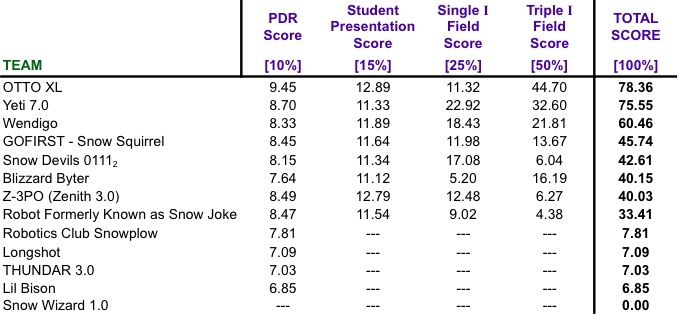 Additional Scores Breakdown

2017 FINAL AWARDS

   1st Place  :   Case Western Reserve University "OTTO XL"          $7000, $3000 Travel Stipend, & Gold Snow Globe Award

   2nd Place :   University of Michigan "Yeti 7.0"                                $4000 & Silver Snow Globe Award                             
   3rd Place  :   Dunwoody College of Technology "Wendigo"          $2000 & Bronze Snow Globe Award

   4th Place  :   University of Minnesota "Snow Squirrel"                  $1000

   5th Place  :   Dunwoody College of Technology "Snow Devils"    $700

   6th Place  :   University of Saint Thomas "Blizzard Byter"             $300

   Best Student Presentation :     Case Western Reserve University "OTTO XL"         $500 & Golden Shovel Award

   Sportspersonship :     Dunwoody College of Technology         $500 + Dr. Nattu Golden Smile Award

   GNSS Paper and Presentation by Case Western Reserve University (to be provided soon)

2017 Competition Event Photos

2017 Recent Press

    Committee member Mike Ward interview with AccuWeather on snow removal robots

2017 Competition Venue

    Additional description of competition venue and photos of site

2017 Competition Documents


    Kick Off Meeting Presentation Notes and Announcements

    Preliminary Design Review (PDR) Outline and Format

    Final Student Presentation Information and Outline

    Final Qualification Review (FQR) Checklist

Testing and Development Support

    Refer to the latest snowfield set up and testing information

    Our event this year could not have happened without the support from two terrific teams who provided the
    competition field snow. Our sincere thanks to:

        – Kevin Elm and his crew from the Roseville Skating Center

        – Tony Mahmood and his Winter Carnival snow sculptures crew at the Minnesota State Fairgrounds.

Additional Information